The Chronicles of Luna City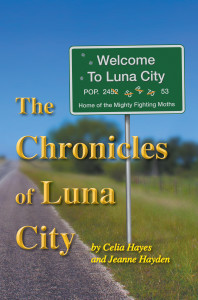 Welcome to Luna City, Karnes County, Texas … Population 2,453, not counting a fugitive former celebrity chef…
Where the high school football team is called the Mighty Fighting Moths … and their yearly Homecoming game is under some strange and irregular curse.
Which was once meant to be a stop on the San Antonio and Aransas Pass Railroad, but which was derailed by True Love …
Luna City, where eccentricity is just a part of every-day life. Drop in for a visit – you might never want to leave.
6×9 paperback, 250 pages, ISBN 978-0989782241
Sunset & Steel Rails
What would move a proper, respectable young lady of Boston to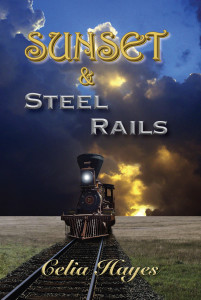 take the desperate step of signing up to work in a railroad concession restaurant, in an age when proper, respectable young ladies just did not do that sort of thing? Sophia Brewer thought she had her life mapped out in front of her, until a certain morning in the spring of 1884 when suddenly, everything changed. Many another young lady might have given way, done as she was told by her guardian, and her doctor … but Sophia had a rebellious spirit, and a sense of adventure … which carried her west to a new life, and an unexpected romance.
6×9 paperback, 340 pages, ISBN 978-0989782050
Lone Star Sons
The time – 1842
The place – the Republic of Texas, a place threatened and besieged on all frontiers!
Jim Reade, a volunteer Texas Ranger, is the sole survivor of an ambush in the contested Nueces Strip. Rescued by Indian scout, Toby Shaw, the two young men join forces in pursuit of a mysterious wagon carrying a treasure in silver and gold – a treasure with a curse upon it!
Sworn blood-brothers, Jim and Toby meet with other challenges and mysteries, including a trove of documents sought after by spies of three nations, a girl vanished in the midst of a vicious feud between two families, a den of murderous robbers on the Opelousas Trace … and a tiny baby left an orphan in the desert!
Lone Star Sons – the classic Wild West rides again, in this collection of adventures intended for younger readers.
6×9 paperback, 230 pages, ISBN 978-0989782012
Available through Amazon, and Barnes & Noble, distributed by Ingram
The Quivera Trail
The Quivera Trail is intended as a sequel to the Adelsverein Trilogy, as picks up in 1875, with Dolph Becker courting and marrying a young Englishwoman, Isobel Lindsay-Groves. Isobel has several problems, the first of them being a domineering and cruelly judgmental mother, and the second,  that she has made a dreadful hash of her debut year and failed to marry – marry well, or marry anyone at all. She is plump, socially inept, loves dogs and horses, and wishes wistfully for a quiet and modest country life. Dolph Becker is the answer to a prayer, for he offers all that … but the price for escape from a gilded world of privilege and the casual malice of her mother and Society …  is to marry a man she barely knows, and follow him to Texas.
Accompanying Isobel on the journey to her new home in Texas is Jane Goodacre, her personal maid and confidant. Jane, the daughter of a small country shop-keeper, also has ambitions – and talents that she hardly suspects. The limitations and expectations for a young working-class woman in Victorian England weigh very heavily on Jane, although she does not realize that … until she and her lady mistress arrive in Texas.
 6 x 9 paper, vi, 396 pages   ISBN 978-0934955324 Available through
Amazon.com
and 
Barnes & Noble,
Distributed by Ingram
 To Truckee's Trail
In the year of 1844, a party of fifty men, women and children set out for California. They walked two thousand miles, across trackless plain and desert, fording rivers and climbing mountains. They found a new trail through the wilderness, hoisted their wagons up a sheer cliff, were caught by the winter snows and faced starvation, with nothing to rely on but their own courage and trust in each other. These are their stories; the doctor-diarist and party co-leader, the old mountain-man who guided them, the feisty woman with her brood of children who means to rejoin her husband in California, the taciturn wagon master… all inexorably drawn to Truckee's Trail!
 6 x 9 paper, vi, 266 pages   ISBN 978-0934955881 Available through
Amazon.com
and
Barnes & Noble
, Distributed by Ingram Author's website:
www.celiahayes.com
DAUGHTER OF TEXAS
Before the cattle drives and before the Alamo. Before the legends were born; she was there and she saw it all!
On the day that she was twelve years old, Margaret Becker came to Texas with her parents and her younger brothers. The witch-woman looked at her hands and foretold her future; two husbands, a large house, many friends, joy, sorrow and love. The witch woman would not say what she saw for Margaret's younger brothers, Rudi and Carl – for Texas was a Mexican colony. Before the Becker children were full-grown, the war for Texas independence would come upon them all and show no mercy.
During her life, she would observe and participate in great events. She would meet and pass her own judgment on great men and lesser men as well; a loyal friend, able political hostess … and at the end, a survivor and witness. But in all of her life, there would be only one man who would ever hold — and break — her heart!
6 x 9 paper, vii, 338 pages         ISBN 978-0934955836
Available through
Amazon.com
and
Barnes & Noble,
Distributed by Ingram Author's website:
www.celiahayes.com
DEEP IN THE HEART
A woman with many friends – but few of them would ever know her heart!
Two husbands, a large house, many friends – that was predicted for Margaret Becker Vining; that she would be a widow, left to raise her four sons in a tiny frontier town, was not mentioned in the old conjure-woman's prophecy. Austin, the makeshift capital city of the Republic of Texas, was threatened and besieged from all sides. Peace did not come with Sam Houston's victory over the Mexican Army at San Jacinto. Between old and bitter enemies and the inconstancy of unreliable friends, Margaret Becker Vining, her family, and her friends must fight to maintain their independence and security . . . while Margaret herself despairs of ever finding happiness again.
6 x 9 paper, vi, 300 pages    ISBN 978-0934955874
Available through
Amazon.com
and
Barnes & Noble
,Distributed by Ingram Author's website:
www.celiahayes.com
 Adelsverein: The Complete Trilogy
The Adelsverein Trilogy, now combined in a single hardbound edition, is a saga of family and community loyalties, and the challenge of building a new life on the hostile frontier. They came from Germany to Texas in 1847, under the auspices of the "Mainzer Adelsverein" – the society of noblemen of Mainz, who tried to fill a settlement in Texas with German farmers and craftsmen. Christian "Vati" Steinmetz, the clockmaker of Ulm in Bavaria, has brought his sons and daughters: Magda – passionate and courageous, courted by Carl Becker, a young frontiersman with a dangerous past. Her sister Liesel wants nothing more than to be a good wife to her husband Hansi, a stolid and practical farmer called by circumstances to be something greater, in the boom years of the great cattle ranches. Their brothers Friedrich and Johann, have always been close – in the Civil War, one will wear Union blue, the other Confederate grey homespun – but never forget they are brothers. And finally, there is Vati's adopted daughter Rosalie, whose life ends as it began – in tragedy. But Vati's family will will survive and ultimately triumph. They will make their mark in Texas, their new land. Adelsverein: It's about love and loss, joy and grief . . . and the sometimes wrenching process of becoming American.
6 x 9 cloth, vii1, 1040 pages   ISBN 978-0934955843 Available through
Amazon.com
and
Barnes & Noble,
Distributed by Ingram Author's website:
www.celiahayes.com
The Adelsverein Trilogy is also available in separate paperback volumes