The Confederate Military Commission Held in San Antonio, Texas July 2-October 10 1862
During the War Between the States, a large part of the Texas Hill Country opposed the Confederacy. They were mostly Freethinkers, who did not believe in an organized church, and 48ers, who had participated in the failed German Revolution in 1848, which attempted to unite the German states into a democratic country. Early in 1861, this group organized the insurgency's political element, known now as the Union Loyal League, but called "The Organization by it's members. By March of 1862, they had organized a secret military element, believing that the Union was going to invade Texas. But in the spring and summer of 1862, the Confederate 'cracked-down' on the insurgency, and arrested several leaders. This is the account of the trial.
Wm. Paul Burrier, Sr., was born in Fredericksburg, Texas, the center of the Texas German settlements. He graduated from Leakey High School, Southwest Texas Junior College, and Texas A&M with a degree in history. This is the first of a series published by Watercress Press/G&A, drawing on original documents annotated by Mr. Burrier to do with the Civil War in the Texas Hill Country.
134 pages, casebound, ISBN-13: 978-0934955-06-5, Available  through Amazon and Barnes & Noble, and distributed by Ingram.
Nueces Battle and Massacre Source Documents
A collection of original historical source documents regarding the battle and massacre of Texas German Unionists by Confederate militia in a clash on the Nueces River in 1862. The documents are extensively annotated by the editor, W. Paul Burrier,  with additional information on background and participants.
276 pages, casebound,  ISBN 978-0989782005,                     Available through Amazon, and Barnes & Noble, and distributed by Ingram
Nueces Battle Massacre Myths & Facts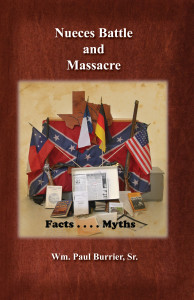 A scholarly re-examination of the myths and facts regarding the Civil War battle at the Nueces River and the subsequent massacre of Texas German Unionists by Texas Confederate troops.
154 pages, casebound, ISBN 978-989782210,   Available through Amazon, and Barnes & Noble, and distributed by Ingram