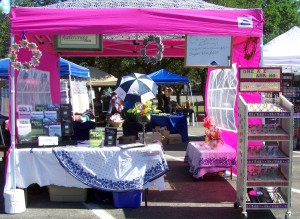 Well, on those outdoor venues to sell books … mine or other Watercress/G&A authors. Although I do have to share it with Paper Blossom Productions…
It's very … pink. And visible, in an open-air market where just about every other vendor has a white, or cream-color, or blue canopy. Bright pink and a black and white zebra-striped top are … visible.
And that's the name of the game, in marketing. Being visible.
Although – it didn't quite block all the UV rays. We both were slightly to rather sunburned after this last weekend's turn at the Bulverde/Spring Branch Spring Market, in the parking lot of Beall's at Bulverde Crossing and Hwy. 46 W.