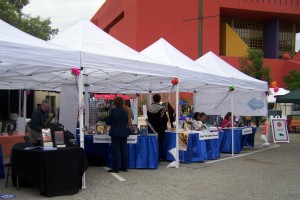 So, this is only the second year running for the San Antonio Book Festival, sponsored by the San Antonio Public Library Foundation, which seems to have modeled itself on the Texas Book Festival – at least, the principles and requirements for books to be considered for it are identical. This means that independently-published books, like my own, and subsidy-published books like … well, Watercress Press authors are not eligible for consideration as part of the festival, only as exhibitors. In the eyes of strict book trade professionals, indy and subsidy-press books have literary cooties or something. (Insert Bette Davis-sized eye-roll here and a heavily sarcastic sigh of "What-ever!) This is ironic in the extreme, as we publish John Igo's poetry collections, and he has a public library branch named for him.
So, off to the festival, where the exhibitor booths were set up in three or four rows of pop-up pavilions in the parking lot of the South West School for Art and Craft. The School, by the way – used to house the convent and boarding school run by the Ursuline sisters. This was the first girl's school in San Antonio, and was considered to be a very fine one in the 19th century.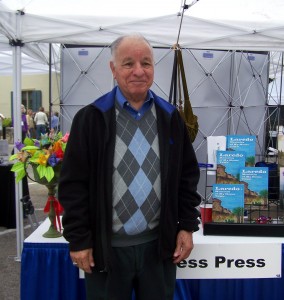 It was chilly and overcast all day Saturday, which may have discouraged some participation – as well as some of the exhibitors – but on the other hand, better that then too hot, or too cold, as we experienced in December at Christmas on the Square at Goliad last December. Yes, it would have been more pleasant if the sun had come out … but outdoor events in Texas are a challenging thing, most times of the year, whatever that time is.
We had arranged for four Watercress Press authors to take a turn at the table with their books. At the very last minute, Aubrey Smith Carter had to cancel on grounds of health, but Jose Guadalupe Diaz, Paul Burrier and Letty Lozano all were there, in turn.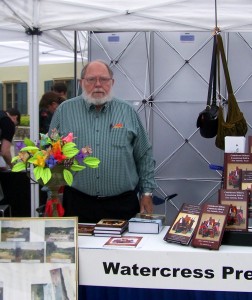 Jose Diaz sold a couple of his books, so he was happy. When Paul Burrier and I were at the table, when a woman looking for authors to come out to Randolph and sell our books took our cards and information, so we were happy. And Letty Lozano signed up with the Texas Authors Association, which will have her books as well as those of other members at a wide number of book events that she can't afford or doesn't have the time to attend – so she was happy.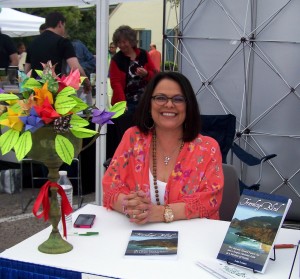 I am planning to do this again, of course – and to have a Watercress Press author table at the Christmas Market in New Braunfels in November. We don't do marketing – it says so in the contract – but affording a venue for selling books twice a year is something that I believe we can do.